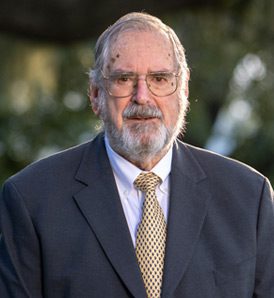 COLDEN R. BATTEY, JR.
OF COUNSEL
Location: Beaufort, SC
Phone: 843-524-3109
Fax: 843-524-6973
Colden R. Battey, Jr. has spent 59 years practicing law at Harvey and Battey and have been a partner for 57 years.
W. Brantley. Harvey, Jr. was highly intelligent and was a very good lawyer but his love was politics. He loved campaigning, meeting people and helping them in any way he could. As he became more active in politics Colden began to assume more responsibility in running the firm. Brantley's campaigning for Lt. Governor took him out of the firm for most of a year. When he was defeated in he primary race for Governor he came back to Beaufort and practiced with the until his retirement. Brantley was a good lawyer and his legacy will be his accomplishments for the people of South Carolina, his service in the legislature, as Lt. Governor and his many accomplishments.
This law firm will be Colden's legacy. His involvement in community endeavors include the position of Chairman of Beaufort County Council for 8 years. He was also Commodore of the Beaufort Water Festival and Chairman of the United Way. Colden was on the board of the Beaufort Jasper Higher Education Commission for 17 years and served as Chairman for several years.
Colden was awarded an honorary degree in Public Service for his service to the University. He was one of the founders of the Savings Bank and served as Chairman of the Board from its inception until its merger with the Bank of Orangeburg 12 years later. After the merger, he served on the Board of the merged entity until he retired (you may know this bank today as South State bank, with assets of over 50 billion dollars). Colden also served on the South Carolina State Ports Authority, the Savannah River Maritime Commission and the Jasper Port Authority.
Colden was one of the first trustees of the Nemours Wildlife Foundation in 1995 and served as Chairman for 12 years, where he continues to serve as a member of the Board of Trustees.
While Colden has done a number of things in the last 60 years, he is most proud of his time with the Harvey and Battey law firm. His greatest wish is for his children, grandchildren and those to follow, to know of his contribution to the firm. His desire is for them to know that he was much more than just a lawyer that came to work for the Harveys in 1963.
The current attorneys and staff of Harvey & Battey, P.A. will continue to write the history in future days, leading up to and beyond the 150th and the 200th anniversary of the firm. This firm has prospered during the years of Colden's involvement and continues to grow in stature. Colden firmly believes that Harvey & Battey it is the premiere law firm in Beaufort County.
Areas Of Practice
Tort and Personal Injury
General Civil Litigation
Administrative Law
Bar Admissions
80% of Practice Devoted to Litigation
Education
University of South Carolina School of Law, Columbia, South Carolina
LL.B. magna cum laude – 1963
Honors: Wig and Robe
Honors: National Moot Court
Law Journal: South Carolina Law Quarterly, Editor-in-Chief, 1962 – 1963
University of Georgia, Athens, Georgia
B.S. – 1956
Representative Clients
South Carolina Bank & Trust
O.C. Welch Ford Lincoln
Paragon Produce
Associations and Memberships
American Bar Association, Member
South Carolina Bar Association, Member
Beaufort County Bar Association, Member
Beaufort County Bar Association, President, 1982
South Carolina Trial Lawyers Association, Member
American Association for Justice, Member
Nemours Wildlife Foundation, Trustee, 1995 – 2007; Chairman 2007 – Present
Beaufort Water Festival, President, 1966
United Fund, Chairman
Sertoma Club, President
Past Employment Positions
United States Navy, Lieutenant, 1956 – 1960